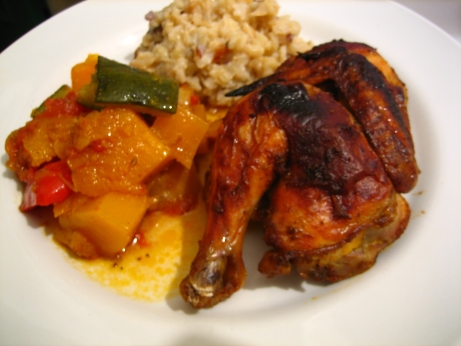 This was my first experiment with Cornish hens, and I think I'm in love. I watched an episode of Freaks and Geeks the other night. In one scene the mother roasts Cornish hens, and serves them to her skeptical family, who use the hens as puppets for a dance routine, and complain that they want normal food, like chicken. Two things, 1) Cornish hens are chickens, and 2) that show was awesome, it really bugged me when they canceled it. That episode was poking fun at the status of little birds as icons of the '70's and 80's food revolution, for both good and ill. My dining companion's mother talks about fancy dinner parties in the early 80's where the women wore long gloves, and were asked to pick apart quail with a knife and fork. She remembers going home hungry a lot. Game birds are often considered exotic or fancy food, but at least for Cornish hens, they're just conveniently sized chickens.
This dish emphasized how casual and delicious a Cornish hen can be. You start by making a spice mixture of caraway, salt, garlic, honey, lemon juice, olive oil, paprika, cumin, ginger, cinnamon, cayenne, and pepper. Then you cube zucchini, turnips, red peppers, butternut squash, and onions, toss them in with half the spice mix, chopped tomatoes, and chicken stock. You then take the backbones out of the hens and halve them, toss them in the spice mix, and lay them in a roasting pan on top of the vegetables. The whole thing goes into a 425 oven covered in foil for an hour, then uncovered for the last half hour to let the birds brown up.
There were a lot of ingredients to the dish, but most of them were in the cupboard. There was a good deal of prep work to be done, particularly taking a rock-hard butternut squash apart, and peeling turnip, but nothing too complicated. The results were absolutely fantastic. The use of smaller Cornish hens makes this dish possible. A full sized chicken might not get cooked through before the veg turned to mush, but with little birds everything comes out together. The juices drip off the birds and flavour the vegetables, which in turn perfume the hens.
I've been pretty harsh to the middle eastern / north African dishes I've made thus far. I just can't get behind sweetened meat dishes. This one however, had dollop of honey, carefully balanced with lots of spice and some more harshly flavoured vegetables like the turnips. The little sweet note of honey was much appreciated, it was present but not too assertive.
This dish was just delicious, I couldn't get enough of it. I couldn't wait for lunch time, so I had some left-overs for breakfast. The Hens were perfectly roasted with an amazingly crisp skin and juicy tender inside. They were dense and meaty, with a deep chicken flavour. The vegetables roasted wonderfully, and the spice mix was an excellent compliment to all the flavours in this dish. I'd happily make this again and again. Moroccan-style roast Cornish hens with vegetables, you've earned your five mushroom rating.