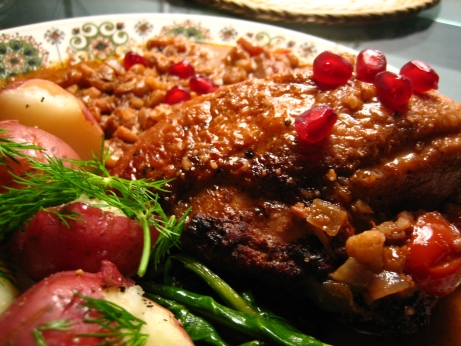 No recipe for this one.
This is a quick chicken stew, made with pomegranate, onions, walnuts, cinnamon, tomato, lemon juice, and molasses. That's a lot of big bold individualistic flavours in one dish. Apparently this dish is traditionally made with duck instead of chicken. There may have been a very good reason for that. Duck has got a pretty intense flavour of its own, and it can stand up to this sauce. I found that the chicken flavour just got lost.
The weirdest thing about this dish is that the sauce is thickened with ground walnuts. I really liked the walnut flavour, and it pairs very well with the pomegranate juice, but the texture was just off. It's not smooth, it's not chunky, it's mealy. Runny undercooked oatmeal comes to mind.
I'm also not a huge fan of sweet sauces for meats. This wasn't candied or anything, but the combination of pomegranate juice, cinnamon, and nuts put my palate in dessert mode. Sweetened fruity stews and I just aren't destined to be friends.
On a more positive note the chicken itself picked up bunch of great flavour. I didn't eat much of the sauce on it's own, but it had perfumed the chicken quite beautifully. I also liked having an excuse to break down a pomegranate. The little jewels are gorgeous, and a lot of fun to eat.
I wouldn't make this one again, the sauce had a cohesive flavour, but it was going in a direction I didn't want to follow. It completely overwhelmed the chicken, and the texture was just bad. Make it at your own risk.