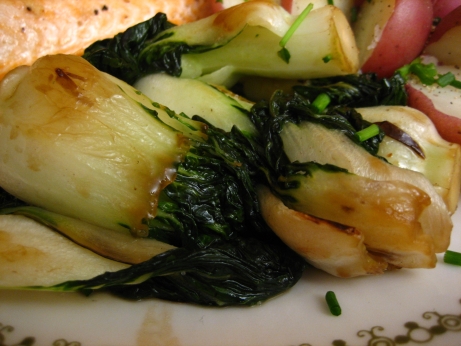 This is about as simple as side dishes get. Just fry up some bok choy, toss on a mixture of water, soy, oyster sauce, and butter, cook for a minute or two, then eat. I prefer baby bok choy to the gargantuan full grown versions. They don't taste much different, but I like the finer texture of the smaller ones. Full sized bok choy also leave you with the cabbage and celery conundrum of what to do with the rest of these enormous vegetables?
Bok choy is a prototypically Chinese vegetable, and it's almost always prepared with that in mind. I don't think I've had it any way but stir fried with some vaguely Asian flavourings tossed at it. I wonder if bok choy really has an affinity for soy sauce, or if it's just the case that no one has ever tasted it without it? While this preparation isn't innovative, it is quite tasty.
I liked that this dish is simple, and uses ingredients you probably have on hand. I'm not actually sure that most people have oyster sauce on hand. But, a geometric expansion of condiments is squeezing me out of my fridge, so oyster sauce was no problem to find.
This recipe was reliable, easy, and very quick. Bok choy looks great on a plate, and has a unique and appealingly mild flavour. This is a great side dish, and it could even see myself making these as dinner-for-one after an exhausting day.