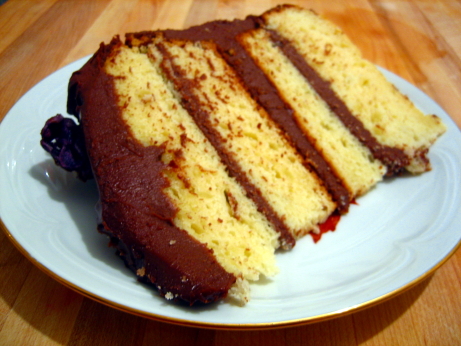 The recipe
This cake and its frosting are separate recipes, so I'll only be tackling the cake in this post. That's fine by me. I'm sure I've mentioned that I'm not really a frosting person. For me, the icing is just getting in the way of the cake. There are icings I like more (buttercream) and icings I like less (glacé, royal icing, penuche), but they're never the part of the cake I look forward to, and they can often detract from an otherwise lovely dessert. Thankfully there are enough people who feel exactly the opposite way that a my-icing-for-your-cake trade can sometimes be arranged.
I have very little pastry experience, and my dessert terminology is a little vague. Are the terms frosting and icing interchangable? or do they refer to distinct classes of cake topping? Wikipedia redirects a search for frosting to their icing page, and their dictionary definitions don't appear to be too different. If any of you know if there's a difference, please enlighten me.
Even if the frosting doesn't do much for me tastewise, I do appreciate it's structural role. A giant layer cake would be nothing without it, and I do love a layer cake. They're the quintessential birthday cake, big enough to serve a crowd, and they look great with candles stuck in the top. A stacked cake like this can make an occasion. Beyond just admiring it when it comes out, watching the host try to serve it is a spectator sport. Will the first piece come out neatly? Will the layers stay together? Can your host flop a slice onto a serving plate with anything approaching grace? Your aunt is watching her weight, just how thin a slice is it possible to cut? We didn't put any candles on this particular cake, but it didn't taste quite right without the little bits of wax melted into the top.
The main difference between this cake and a standard yellow cake is the addition of sour cream. You start by sifting together the dry ingredients, flour, baking power, baking soda, and salt, in a bowl. You then cream the butter and sugar in another, followed by eggs beaten in one at a time, and the vanilla. It's nice of The Book to provide hand mixer instructions, but the Kitchenaid is sitting there on the counter, and there was no way I wasn't going to use it. The flour mixture then goes in with alternating additions of sour cream. The batter is divided into two round cake pans, baked, and cooled. When it's time to assemble the cake, you cut off the rounded top of at least one of the cakes, and then divide each of the cakes into halves. They're then stacked with icing between the layers, and covered with the rest of the icing.
I was quite pleased with the cake part of this cake, I'll get to the icing next time, but the cake itself was lovely. Sour cream does good things for baked goods, it keeps them exceptionally moist, and adds just a bit of a tang to counter all the sweetness. It was a fairly dense cake with a soft springy texture. It's a good choice for a big stacked cake like this, it was easy to cut and serve, and stood up to some rough treatment during icing.
If I was looking for a birthday cake for a casual gathering, I'd happily make this again. It's a bit of a workhorse of a cake, solid, and reliable. Because I'm not all that competent in the pastry department, those are attributes that really appeal to me. I'm working my way up to precious little confections, but even after I've mastered them, I'll keep coming back to crowd pleasing cakes like this.