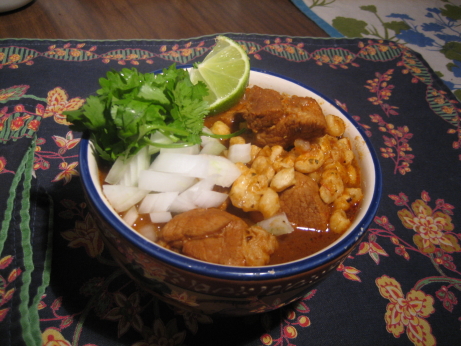 Epicurious doesn't have a recipe for this one, but one of the posole recipes I found on there looks great, and might address some of my concerns with this dish.
I was really excited to make this. My dining companion came home raving about the posole at Le Jolifou, a great Montreal restaurant which specializes in Mexican inspired Québécois dishes. A couple of weeks later we looked through The Book, and tried its take on posole. I can safely say that this recipe didn't live up to Le Jolifou's exacting standards.
Posole is a Mexican stew, which usually features pork and chiles and always features hominy (confusingly also called posole). This was my first experience with hominy, which are corn kernels that have had the outer hull removed by soaking in an alkaline solution. This is a really cool example of ancient food chemistry. At some point someone decided to boil their corn with a handful of ashes from the fireplace, and found that the corn tasted better and the family was healthier. The treatment makes the corn kernels more digestible, more nutrients become available, and it's nutritionally complete enough to be a staple food. Without this process people surviving on corn will become malnourished and develop pellagra. Europeans brought maize back from the new world, but didn't treat it, and pellagra became widespread. I've idly wondered what the difference between polenta and grits was for a while, and now I know. Polenta is made from untreated corn meal, while grits are made with treated corn meal, simple, but it wasn't obvious. If you're looking to geek out on more food science check out the Wikipedia page on this process, called nixtamalization.
Despite my affection for hominy, this posole wasn't great. It's simple to make, just soak pasilla and guajillo chiles in water, then run them through the blender with oregano, salt, cumin seeds, pepper, garlic, tomato, and onion. You then simmer cubed pork shoulder in this sauce for an hour, add canned hominy, and continue to simmer for half an hour more. The stew is served with any combination of radishes, onion, cilantro, lettuce, chiles, lime wedges, and tortillas or tortilla chips.
The sauce has some very nice flavours to it, and I love pork braised with chiles, but the texture wasn't great. I'm not really sure what happened, but my pork cubes ended up tough and dry, swimming in a thin sauce, with a huge amount of hominy. I would have preferred a thicker chunkier sauce, perhaps leaving the tomato and onion out of the blender, or mashing some of the hominy would have helped to thicken it up. I also would have preferred to shred the pork into the sauce. I found the chunks too big, and not amazingly flavorful. The recipe calls for three 15 oz cans of hominy, which should really be reduced to two. The other recipe I linked calls for 26 cloves of garlic, the version in The Book calls for only one. I'm not sure if I'd up the garlic quite so drastically, but I'd seek out a happy middle. The hominy itself was really interesting, it has a very unique chewy texture, which I liked. I'm not sure I'd really want to eat a whole lot of it at one sitting, it reminded me a bit of the tapioca balls in bubble tea.
As with most stews the posole improved with age. By day three the pork had soaked in more flavour, and softened, and the whole dish was more cohesive. It was perfectly edible, and even enjoyable, but my dining companion's stellar dinner out had really built up my expectations for this posole, it just couldn't live up to them.