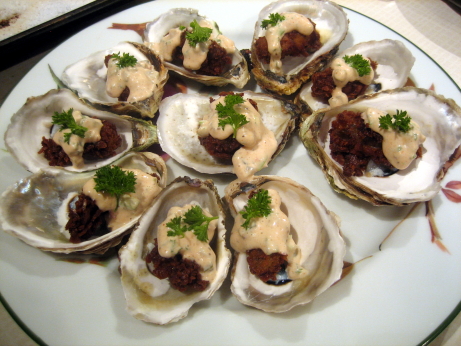 The instructions for the oyster's don't appear online, but the rémoualde is the same one used in this recipe.
I tried a fried oyster for the first time about six months ago at a very posh restaurant. It was brought out as an unexpected treat between courses, and served with a fiery salsa. It had a crackling exterior that gave way with a burst of the the ocean, and revealed a delicately chewy, and still mostly raw oyster. We ate some wonderful food that night, but I think the impromptu oyster was my favourite part. I was hoping to match that experience with this recipe. In then end I didn't quite succeed, but it's a strong base for further experimentation.
For this recipe shucked oysters are dredged in a mixture of milk and egg, then coated with crushed saltine crackers. The oysters are deep fried for a couple of minutes, and served on their shells and topped with a rémoulade. The rémoulade is a simple mixture of mayonnaise, mustard, tomato paste, minced shallot, dill pickles, and scallion, with a dash of Worchestershire sauce, old bay seasoning, minced parsley, sugar, red wine vinegar, and a pinch of cayenne.
The rémoulade is absolutely excellent, and I'll hear no word against it. It draws in a broad spectrum of ingredients, and covers its bases. It's creamy, acidic, herbaceous, arromatic, and just a little bit spicy. It would be an ideal counterpoint to many simply flavoured seafood dishes. The use of Old Bay seasoning was intriguing. The Book doesn't often call for prepared spices, particularly not a proprietary blend like Old Bay. I'd never tried the stuff before, and never seen it in stores here. Alton Brown is apparently in love with it, and I'd been interested to find out what the fuss was about. I was lucky to be cooking at my parent's place, as it turned out my mother had a container in her pantry. Speculating on how old it was, would have been looking a gift horse in the mouth. I wasn't blown away by Old Bay, but it certainly wasn't bad. I was expecting it to be like those flavoured salts Food Network stars like to sell, but it seems to be more of an herb and spice blend. It was a worthwhile experience, but I'm not sure I'll add it as a pantry staple.
The oysters in this recipe had some problems. I heated the oil to 375, and began the frying process. The recipe says they should cook for one-and-a-half to two minutes, but after about 45 seconds they were getting quite dark. By the time I got the oysters out they were much closer to mahogany than golden. The previous oyster recipe called for large oysters, so it was my fault when they overcooked, this one just calls for oysters in general. We have no way of knowing what size of oysters they tested this recipe on, but they must have been larger than mine. When there's such wild variation in the sizes and cooking times of oysters, it's pretty bad form not to give some indication of how that will affect the recipe. My oysters came out overcooked on the outside, which wasn't a big deal, but they were cooked all the way through and mostly dried out on the inside. The fine texture of the oyster was lost, and replaced by chewiness. They still had good flavour, and the coating was nicely crisp. I'd certainly try oysters like this again, but I'd be sure to get them out of the oil significantly earlier.
These would work well at a cocktail party, or as a first course. The book suggests that they could be a main course as well, but I think they were a bit too rich to make a meal of. This recipe had its problems, but overall they were very enjoyable. With a little tweaking of the oysters and cooking time I think they could have been fantastic.