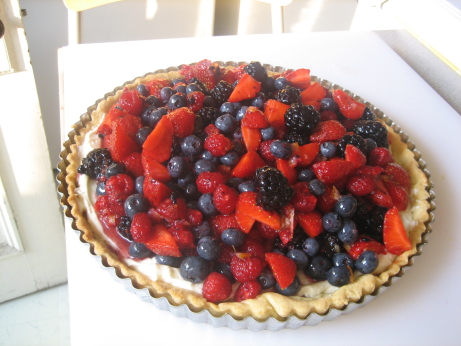 The recipe
I was impressed with this tart, it's very simple, beautiful, and delicious. I'm not fond of precious pastry bag tricks, or marzipan statuary on my desserts. I prefer the natural good looks of fruit, or decoration that's an extension of the dessert making process. I tend to bake cakes, dust them with icing sugar, and call it a day. In large part this is because I'm not fond of icing. I'll often eat the cake out from around the icing if it's too sweet. I'm OK with whipped cream based icings, and some butter creams, but super-sugared toppings like penuche just aren't my thing. The beauty of a summer tart is the casual elegance, it's effortlessly gorgeous, and usually looks and tastes better than a tortuously composed winter-time confection.
The recipe was very simple. It starts with Sweet Pastry Dough, rolled out between sheets of wax paper, and baked with pie weights. It's filled with a whipped mixture of mascarpone, cream, and sugar. It's then topped with strawberries, raspberries, blueberries, and blackberries which have been coated with marmalade and berry liqueur. As I mentioned in the write-up for the dough, I had some problems getting it to roll nicely, but it was still quite tasty. The mascarpone cream was excellent, it added body and richness with a very subtle tang, and not too much sweetness. The berries were allowed to carry the dish, they provided the bulk of the sweetness, a nice boozy accent, and all of the visual appeal.
My only complaint with this recipe are the instructions for the berries. They're put in a bowl, covered with melted marmalade and liqueur, and gently stirred together. I did my absolute best to stir very very gently, but the delicate blackberries and raspberries suffered for it. Next time I'd put the berries on the tart and drizzle them with the glaze. You might not get as thorough a coating as you'd like, but it's a real shame to damage perfect summer fresh berries. Incidentally, the recipe calls for a dark berry liqueur like blueberry, blackberry, or creme de cassis. I was convinced we had creme de cassis the back of the liquor cabinet somewhere, but it turns out that belonged to an old roommate. I used Grand Marnier instead, and it was delicious. No doubt Grand Marnier is sweet, but it's got a much more pronounced Cognac edge than many other fruity liqueurs. I welcomed that firey addition to the tart, while a more syrupy liqueur might have pushed it in the wrong direction.
I was extremely happy with this dish, it was simple, delicious, and seasonal. It hinges on amazing fresh berries, I don't think a winter time replication with frozen fruit would work out. I'm watching giant fluffy snowflakes drifting down outside my window right now, and it's making me long for the amazing bounty of fruit I got to enjoy in August. This is a quintessential summer tart, a thousand variations are possible, but I could happily stick with this version for the rest of my life too.