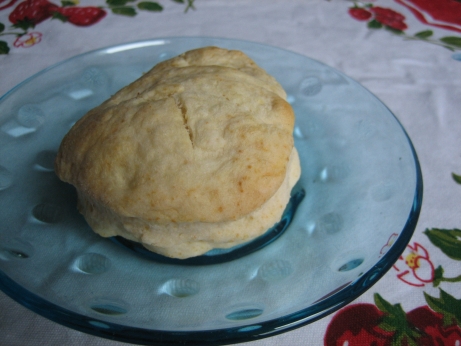 No, recipe appears on line, and that's a shame.
I really enjoyed these biscuits. They're light but not too fluffy, nicely moist, and just crumbly enough. The recipe is simplicity itself, it's just flour, baking powder, and salt, mixed with whipping cream. After kneading it for a few seconds it's patted into a 1/2 inch thick round, and cut into ~3 inch rounds. Then they're transferred to a baking sheet, brushed with a bit more cream, and popped into a 425 oven for 12-15 minutes.
Early on in the history of Good Eats, Alton Brown had a biscuit episode where his grandmother (mee-maw) came on to show him the proper technique. The recipes there were buttermilk based, but the principles still hold. He emphasized that the most important thing was to use a very sharp cookie cutter, with a decisive push through the dough to avoid compressing the biscuits, and to ensure a good rise. I took that advice to heart, and then completely ignored it when the moment came. I used the dull edge of a drinking glass to cut them out (the recipe calls for a cookie cutter), and my biscuits didn't rise nearly as much as I'd hoped they would.
The recipe calls for White Lily flour, which that same Good Eats episode tells me is commonly available in the American South, but as far as I know it's not to be had here. Standard AP flour was given as an alternative, and it worked just fine, these were still absolutely delicious biscuits.
These are probably best suited to sweet applications, because of the straightforward richness of the cream. If I was going to cover biscuits in gravy I'd want the tang of buttermilk to help balance things. The Book uses these as the basis for its strawberry shortcake recipe, and I think they were perfectly suited to the task. I ate some leftovers with some of my homemade strawberry jam and a bit of sharp cheddar, which may have been even better.