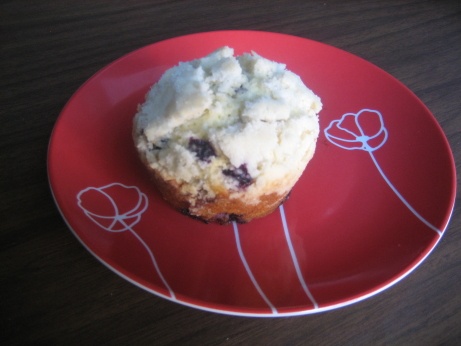 The recipe
My dining companion has been doing a lot of driving for work over the past few months, and I've been looking for little treats that travel well to send along with her. These muffins looked like they'd fit the bill, and I was pleased to discover that they're not just portable, they're tasty. They've got another of Ruth's seemingly unnecessary streusel toppings, but that's not such a bad thing.
The recipe follows the standard muffin method, mix the wet stuff together, mix the dry stuff together, add the wet stuff to the dry stuff, and mix until it's barely combined. In this case the wet stuff is played by melted butter, whole milk, egg, egg yolk, and vanilla, while the roles of the dry stuff are capably portrayed by flour, sugar, baking powder, and salt. Once the muffin mixture is together, the blueberries are delicately folded in, and the batter is divided into muffin cups. It then gets topped with a shortbread like mixture of flour, butter, and sugar. The muffins bake at 375 for 18 – 20 minutes.
The muffins were very simply flavoured, rich and moist, with a carefully balanced sweetness that enhanced the blueberries. I like to give credit where credit is due, and this is one baked good where The Book got the sugar right. The topping was less successful, the recipe says to bake the muffins 'till they're golden and crisp, but they were cooked through, and smelling done before the topping changed colour. If I'd waited any longer the undersides would have burned. I think there was just too much topping, so it was left a bit raw looking. It tasted quite good, but wasn't as visually appealing as I would have liked.
This recipe gets nearly everything right, good texture, clean flavours, satisfying richness, and a wallop of blueberry essence. Unfortunately the undercooked topping takes away from the effect. I'd certainly make these again, but I'd use half the topping, or omit it entirely. It did lend a nice contrasting texture, but the "studies in white, number 6" vibe didn't do it for me. Overall quite a nice muffin though.