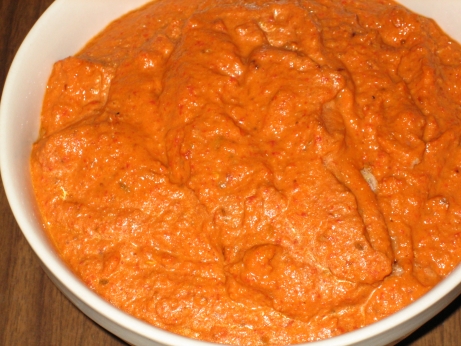 This was an absolute winner. Easy, cheap, packed with flavour, unusual, brightly coloured, exploding with garlic, what's not to love? I've made this twice and I'm sure a third time is not too far away. There are flavours pulling in all sorts of directions here, sweet roasted red peppers and molasses, earthy cumin and walnuts, sharp garlic and red pepper flakes, an acidic bite of lemon juice, but everything plays very well together. It also changes a bit as you eat it. At first the sweet and spicy flavours are prominent, but after a few bites the nuts start to take centre stage.
I was complaining that the lamb tagine's flavours were too scattered and working against each other. The flavours here are similar in some ways, but they're pulling in concert. The result is my new favourite spread. The book suggests adding this sauce to meat, and while I haven't tried it on a roast, I did put it on a turkey sandwich. I thoroughly enjoyed my lunch.
The only downside here is that I think I might be slightly allergic to walnuts. It's nothing much, just a slight numbing of my mouth and lips and a tickle at the back of my throat; particularly if they're raw. I'd probably do well to limit my exposure to avoid kindling or sensitization though. Too bad.