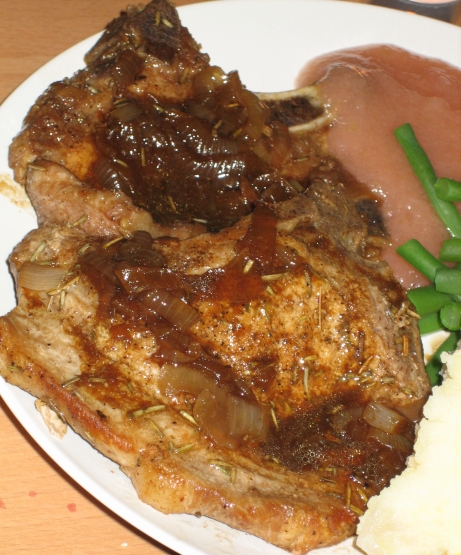 the recipe
I made these for a bunch of hungry hungry boys during a trip to Toronto. It was a nice change from pizza and bar food. Our dinner was a quiet moment in the midst of a rowdy weekend. We sipped wine, listened to light jazz, and enjoyed some classic comfort food. Pork chops, green beans, mashed potatoes, and apple sauce; sounds like a stereotypical home cooked meal. It was delicious.
As a side note, cooking in someone else's kitchen is a deeply weird experience. It's almost like looking through their medicine cabinet. They keep their pots there? Why do they need HP sauce in an industrial size bottle? Is it a faux pas to joke about the bottle of Emeril's spice mix? It also highlights how many little things you know about your own kitchen (Of course the top left burner only gives 2/3 the heat of the bottom right). Also, I'm almost guaranteed to cut myself when I'm not working with my own knives. I've started bringing a few of my own things with me when I know I'll be cooking somewhere else, but it feels a bit rude.
These chops came together easily. They're seared first, then cooked through in a broth made from the pan juices, onions, balsamic, and red currant jelly. I admit, I cheated and just used a jelly from the fridge, it was red though. The recipe called for boneless centre-cut chops; as I was feeding a crowd I bought the super-pack from the mega-mart. Some of them were boneless, some bone-in, all delicious. I think I tripled the recipe (sextupled the linked recipe), and the liquid proportions were off, but I adjusted and everything came out fine.
The key to these was the dried rosemary. Fresh herbs are superior to dried for almost all applications. This isn't one of them. The rosemary is with the chops right from the initial sear, so they're contributing to the flavour from the beginning and because the rosemary ends up in the broth it's rehydrated by the time the dish is done. The rosemary flavour permeated the whole dish. I don't think you could have gotten this penetration using fresh, I suspect a lot of the flavour developed during the initial sear. Fresh would just have burned, but the dried stuff held up well.
These were satisfying, came together easily, and didn't cost a fortune. They're a winner.