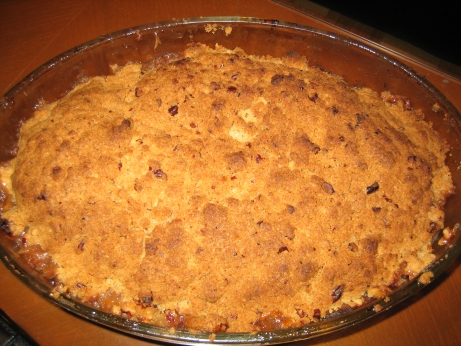 Sorry, no recipe.
The Book and I do not get along when it comes to dessert. It's becoming a tired refrain, but it calls for too much sugar in just about everything.
Familiarity as we all know breeds contempt, and I am certainly familiar with fruit crisps. If this had been an obscure Austrian confection I would have been fairly impressed, but once you call it an apple crisp you've plunged into much deeper waters. My ideal apple crisp has a (wait for it) crisp topping, which crumbles nicely. I'm not sure how a crisp is distinguished from a crumble, but I want both in the same dish. The topping should be substantial, not too buttery, and avoid being too fluffy and cookie like. The filling should have a bit of running juice at room temperature, and distinct apple pieces which offer a bit of resistance when you bite into them. A nice dose of citrus punches up the flavours of the apples, and cinnamon is a must-have, tastes-like-home addition.
This recipe measured up reasonably well to those standards. The topping was nicely crisp, but failed the crumbly test. It erred too far on the side of cookieness. However the pecans added a nice crunch, and provided a bit of crumble. The topping could have stood to have more nuts in it actually. The dish let me down on the filling though. It called for three types of apples, Macouns, Fujis, and Jonagolds. The texture was nice, with some toothsome chunks and plenty of juice, but the flavour was way off. All of the apples they call for a fairly sweet, plus they added a good deal of sugar, taking it to candyland. The lemon juice was limited to two tablespoons, with all the sugar in there the lemon could have been doubled easily.
This dish had some things going for it, and the end result tasted pretty good. The topping could have been part of an excellent dish, unfortunately the filling was underwhelming. Fruit crisps are a simple, ubiquitous summer / fall dish, and everyone will have their own way of doing it, and their own standards by which to judge it. This dish may very well be someone's favorite apple crisp in the whole wide world, it's just not mine.