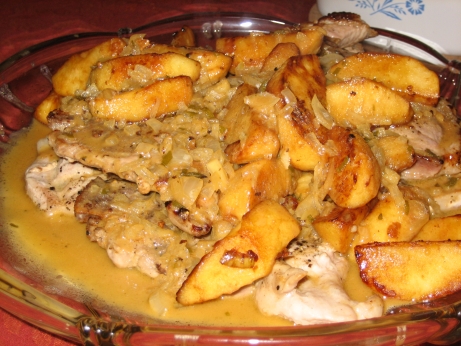 Sorry, no recipe this time
The sautéed apples and cider cream sauce were absolute stars, but the pork chops themselves were a pretty indifferent base for this recipe. It starts with the cream sauce (shallots softened in butter, cooked together with apple cider, cider vinegar, sage, chicken stock, and heavy cream), then the chops are cooked through in a heavy skillet, and the apples are cooked in the pan juices with a bit of butter once the chops are done. The apples caramelized beautifully, and took on the best of the pork's flavours from the fond in the pan. The sauce was creamy with an enticing acid bite which contrasted the sweetness in the apples. As I've mentioned I love sage, and I'm always happy to see it make an appearance outside of turkey stuffings.
The chops themselves were indifferent. This is probably both my fault and that of industrial agriculture. I'm far from the first person to bemoan the lack of flavour in today's pork. I'm too young to look wistfully back on the halcion days when every pig farm was just like in "Charlotte's Web", but the state of industrial pig farming today is pretty disgusting. Beyond the objections of PETA and everyone of any moral fibre, the pork that those factory farms produce doesn't taste very good. More ethically raised meat just tastes more pork-y. Of course those sun-kissed and morally unblemished pigs are going to set you back a chunk of change. For that reason I'm going to continue eating pigs raised in deplorable conditions a good part of the time, and so are most people for the foreseeable future.
The problem with the mega-mart super pack chops in this recipe was the cooking method. They're pan fried with salt and pepper, and that's it. They give up their flavour to the sauce, and you're left with dry tough and flavourless chops. The cheap-o chops just don't do well with dry cooking methods. I raved about Pork Chops With Onion Marmalade, which was exactly the same meat, just using a wet cooking method. This kept the pork moist, and added a lot of flavour to the meat itself. Brining these chops before cooking them could have kept them moist and added flavour too. As it was they didn't really add much to the dish.
A note on photography: Experience has taught me that photos of a big plate of meat really don't look very nice. I'll stop inflicting photos like the above on you ASAP.
Rating this one is a bit tricky, the apples and sauce were out of this world, and the pork wasn't terrible, just indifferent. I suspect that if I'd used thicker chops, and ideally better quality pork this could have come out as a five mushroom recipe. I can't really hold The Book accountable for me choosing to cut corners and buy less than stellar ingredients. On the other hand, most people making this recipe are going to use the same chops I did, and they should have tested this recipe with the ingredients their readers are likely to use.