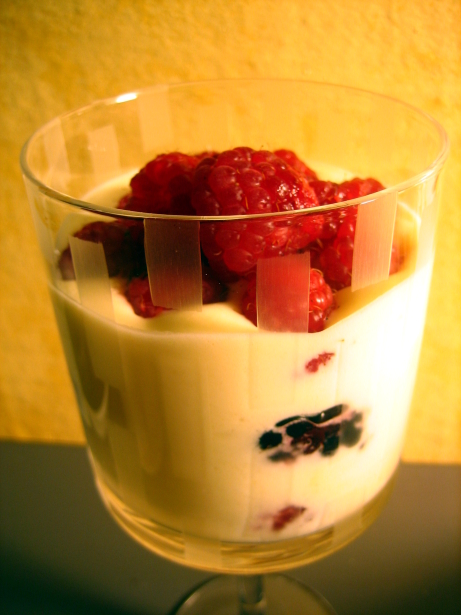 There doesn't seem to be a recipe online for this one.
My dining companion has gone on a major citrus based dessert kick. If we're flipping through the book talking about a menu, she'll inevitably pick a lemon flavoured confection. The only things that can top lemons and limes in her books are rosewater and lavender based sweets. That's fine by me, I certainly like lemony desserts as well, but I fear The Book will run out of them and it'll be nothing but raisin puddings until 2016.
This was a really nice, and simple custard, lightened with whipped cream. It starts with eggs beaten with sugar, then dry white wine and lemon juice are added, and the custard is slowly thickened. once it coats a spoon it comes off the heat, gets an addition of lemon zest, and is allowed to chill in the fridge. Meanwhile you beat cream, and fold it into the chilled custard. The custard is layered with berries in a wine glass, and allowed to chill for an hour before serving.
I was really happy with the way this dish turned out. I don't have a heck of a lot of experience with making custards, and I think I overheated mine a bit. I had trouble taking an accurate temperature, and a burned my finger trying to decide if it was nappe yet, but otherwise things went smoothly. The wine was the killer addition to this crème, it had its sweet, rich, and creamy, bases covered but the wine gave it some complexity and body. You can really taste the wine here, so I'd pick something decent, and very dry. The custard ended up being a touch too sweet for my taste, but overall it was very good. Berries for dessert are always such a treat, and they're even better when the come with an elegant custard. Whipped desserts like this are a great way to end a heavy meal, or to serve on a hot summer night. It tastes rich and satisfying, but it's not actually that filling.
The recipe made five portions, and we each had one the night we made them. Although we both liked them, neither of us when back for the leftovers, and we eventually threw them away. Sometimes that will happen to me with very intense desserts, that are wonderful, but after a few bites I'm just done for the next couple of months. In this case, the dessert was light and airy, so I'm not sure why I didn't want it more. Although, I suspect that if I'd served this on a sticky night in July with burstingly ripe berries it would have been a lot more craveable.