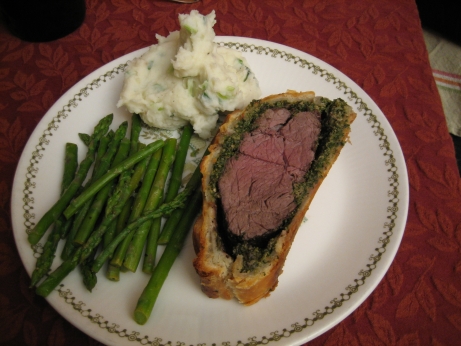 This is the filling for Twenty-First Century Beef Wellington. The filling for Beef Wellington in the 19th and 20th centuries was a duxelles and paté de foie. It's a very French preparation which was renamed and popularized by the British. This twenty-first century version has a lot more in common with Argentina than the old world. I tasted it and my first thought was chimichurri. It's a preparation of blanched spinach, cilantro, parsley, chopped walnuts, garlic, honey, bread crumbs, egg whites, cumin, corriander, salt, and pepper. The whole thing goes into the food processor and pulsed until smooth.
As a filling for a dish called Beef Wellington it was fairly weird. As a sauce for roast beef tenderloin is wasn't bad. I can't get over the preconception of what goes into Beef Wellington. I understand and appreciate the need to play around with traditional dishes, to update them, to take a fresh look at what makes them good, and to help the dishes to evolve with our tastes. Maybe in the twenty-second century I'll be ready for this filling, but to my palate Beef Wellington without mushrooms in some capacity just can't be Beef Wellington.
I think I would have preferred to leave the walnuts and cumin out of this filling. Without them it would have been a nice pesto, and might have worked better in the dish. Replacing the walnuts with pine nuts (another pesto classic) would work well too. The walnuts were toasted, and chopped fine in the food processor. This gave them kind of a mealy texture that didn't really break down into a paste, and didn't retain much crunch. I also wasn't crazy about the flavour of the walnuts with the cilantro. The cumin was a distracting touch, that I didn't think was particularly necessary.
I think a variation on this filling served over a grilled steak would work quite well. It doesn't stand a chance as a replacement for duxelles in my heart. I give them credit for trying to cut the calorie count of the Beef Wellington, but this isn't an adequate substitute. I'll give it a three mushroom rating as a pesto, but as a filling for Beef Wellington it wouldn't merit more than a two.