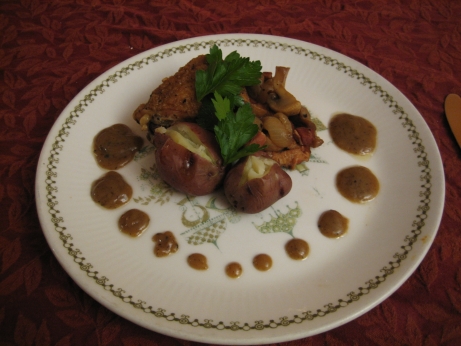 No recipe for this one.
Coq au Vin is such a classic it's practically drowning in preconception and expectation. This recipe doesn't throw any wild experiments or out of the play book ingredients in, but it tries to simplify the process a bit too much. The biggest twist in this recipe is that it calls for white instead of red wine. It also doesn't call for much of it. Most recipes seem to call for about a bottle of wine, this one asks for only 1 1/2 cups. The traditional method usually involves soaking the chicken in wine with a bouquet garni overnight, or for a couple of days. Sometimes the giblets are used to flavour the sauce as well. This version skips all that and just browns the chicken in bacon fat, then braises it in a wine and stock mixture with a bouquet garni, bacon, and onions. Sautéed mushrooms with cognac are stirred in near the end, and then the sauce is thickened with a beurre manié.
The result is pretty good, but the extra little touches in the more traditional versions do make a difference. I prefer the taste of red to white wine, and I definitely missed it here. The Book suggests using white because the final dish will look nicer, but even there I disagree. Yes, the purple tinge red wine gives the chicken is a bit weird, but this white wine version was an unrelieved beige. I can't necessarily say that it looked any better. As a concession to ease of finding ingredients the recipe calls for a standard supermarket chicken. The traditional version is made with a stewing hen, which is an egg laying hen that's grown too old to keep around the farm. These birds are tough, but loaded with flavour, i.e. the perfect subject for a long slow tenderizing braise. I bought a good quality chicken, but there's no way it can compare in flavour. Admittedly tracking down a real stewing hen would be a major pain, and if the recipe had called for one I probably would have complained about that instead.
Coq au Vin in an international success because the flavours in the dish work so well together, chicken, wine, bacon, mushroom, onions, and the oh so French bouquet garni (celery, thyme, parsley, bay leaf). This version didn't do everything that could be done with those flavours, but it only took 2 hours to prepare. If you've got the time or the inclination seek out a battle hardened old chicken, and the forethought to give the bird a wine bath the day before you'll be rewarded with a better dish than this one. However, this version is easy enough to do as a Tuesday night supper, and tasty enough to serve at your next dinner party.