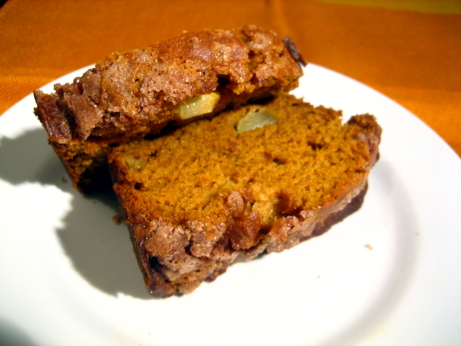 The recipe courtesy of The Amateur Gourmet
A loaf is a dangerous thing. It hardly ever occurs to me to bake up some banana bread, or a lemon loaf. If you asked me to name my favourite desserts, no loaf would make the list. I don't think about them, or go out of my way to get them, but the second a sweet cakey loaf comes out of the oven, I'm lost.
The insatiable craving that takes hold isn't a conscious one. I have a slice with an espresso, dining companion and I chat about how nice it is, then I get on with my day. About half an hour later, I find myself back in the kitchen with the knife in my hand, and another reasonably sized slice on my plate. After all, it really is better when it's fresh. I trick myself into the next slice with a lie about pumpkin and apples making it a healthy snack. It gets worse from there, I probably won't have any appetite for dinner, and my dining companion may not get a second slice. These types of loaves are a triumph of marketing. They're not cake, they're bread! and look! they're full of healthy fruits and nuts! At least a black-forest cake is honest, if you eat it for breakfast you know exactly what a bad person you are.
This particular temptress is made by sifting together flour, salt, baking soda, cinnamon, nutmeg, cloves, and allspice in one bowl, canned pumpkin, oil, sugar, and eggs in another, and then adding the dry stuff to the wet stuff, and folding in chopped apples. The batter is divided between two loaf pans, sprinkled with the inevitable streusel topping (flour, sugar, cinnamon and butter), and baked.
This bread is about as autumnal as it gets. Think pumpkin pie, now with carbs! If you're a fan of the pie, this is the bread for you. Being in the house while it baked was a pleasure. Someone should distill it into a perfume. The bread was exceptionally moist, with a loose spongy crumb, and the barest hint of toothsomeness. The chunks of Granny Smith added a necessary textural counterpoint, and a little bit of bite to keep things in perspective. This topping worked better than some of The Book's other efforts. In this case it was a flavourful glaze on the loaf, and not the overwhelming mess that sometimes results. I might toss in some crushed walnuts or pecans next time, but as it is it's a winner
If you're the sort of person who has a modicum of self control when it comes to baked goods in the house, I happily recommend this bread. For those of you who don't, bake it and give it away, at least you'll be able to enjoy the way your kitchen smells. Unfortunately I tried the second strategy, and for possibly the first time in human history a lab full of grad students was too busy to polish off free baking on the first go-round. I ended up with a third of a loaf on my desk for the afternoon, I'm not at liberty to say what happened next.