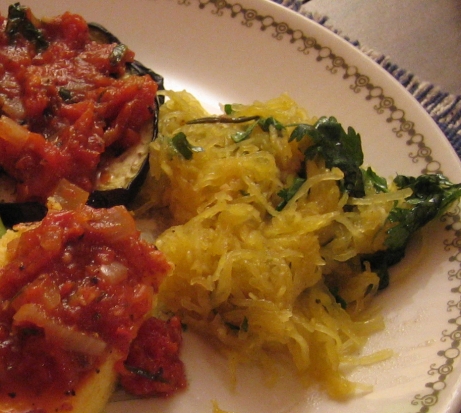 This recipe was extremely simple, and as far I've seen is the only recipe in The Book that calls for the use of a microwave. Basically a spaghetti squash is microwaved, the strands are pulled out and tossed with a compound butter made with garlic, cumin, coriander, cayenne, and salt. Top with a bit of fresh cilantro and you have a simple side. This dish tasted good because spaghetti squash taste good, but I'm not sure the compound butter was the best possible pairing for it. The title of the recipe is a bit of a misnomer, there's nothing all that Moroccan about the spices, in fact they read like basic Tex-Mex cookery. I suppose it's the coriander that's supposed to recall North Africa?
The dish probably would have been better if it had gone more Tex-Mex. A splash of lime juice would have added some welcome acidity, and replacing the cayenne with chopped fresh jalapenos would have added more dimension than the straightforward heat of cayenne. The ground coriander was the least appealing part of the butter, it was only 1/2 teaspoon, but a little coriander goes a long way. I found it a bit distracting, and out of balance with the other flavours. The recipe could also have cut back on the butter without anyone missing it.
All of those issues are easily fixed, and the basic method of preparing the squash is great. All I did was poke the squash with a fork, then microwave on high for ~7 minutes per side. The instructions in The Book are for an 800 watt microwave, and I think mine is 1100, so it cooked a bit faster. The quicker cooking didn't seem to have damaged anything, and you'll know when it's done when the squash gets soft, so the exact time doesn't really matter. A little bit of juice flows from the holes you pricked, and the sugars quickly caramelize making the outside quite sticky. I didn't put the squash on a plate, and the microwave try was a bother to clean.
The strands of squash come out nicely separated, and whole. They have a great texture, and they're inherently fun to eat. My squash was sweet, deeply flavoured, and vibrantly yellow. I don't think I'd toss it with this particular butter again, but from now on my spaghetti squash are going in the microwave.